Branding, Design, Marketing, Social, Web
Making the move to Main Street
Hometown Ice Cream makes a mean scoop, and it's been our pleasure to help it grow from a farmers market pop-up to a destination storefront.
The Ask
Get the 'hood screaming for ice cream
Hometown Ice Cream approached us to ramp up excitement for its new storefront location, just down the street from our office. We'd sampled our fair share of the product at events around the region, so we were eager to help grow a grassroots demand while the Hometown team readied their new bricks-and-mortar shop.




Our Approach
Sweeten up the hometown crowd
We knew we had to build an authentic hometown following before the doors opened, so we took our personal knowledge of the neighbourhood and experience launching local businesses and set to work on a full-featured rollout plan. This was also the perfect opportunity to design a refreshed visual identity to better reflect Hometown's new in-store experience and provide direction for digital and real-world marketing activities.



Brand Identity
The full scoop, with a cherry on top
Hometown had already grown from a freezer on the back of a bike at the farmers market to an enclosed trailer with display refrigeration. Making the move to a bricks-and-mortar shop meant investing not only in the infrastructure of the space, but in the longevity of the brand. Drawing on the nostalgia of a childhood visit to the local ice cream shop, and with an eye for environmental design, signage, and digital placements, we developed a vibrant-but-familiar brand identity. From custom typography to a complimentary colour palette and pattern system, Hometown Ice Cream's new brand identity made it harder than ever to say no to ice cream.



Media Production
Capturing smiles, sprinkles, and the perfect scoop
We applied the new visual identity to fun lifestyle photography, featuring young fans of Hometown's scoops. We blew their portraits up larger than life in the shop windows while we counted the days until the doors opened. Commercial video production captured the Hometown process from farm to cone, and placement during Niagara Ice Dogs hockey games at the adjacent Meridian Centre meant thousands of fun-loving fans would get the scoop on the shop they saw on their way in and out of the games.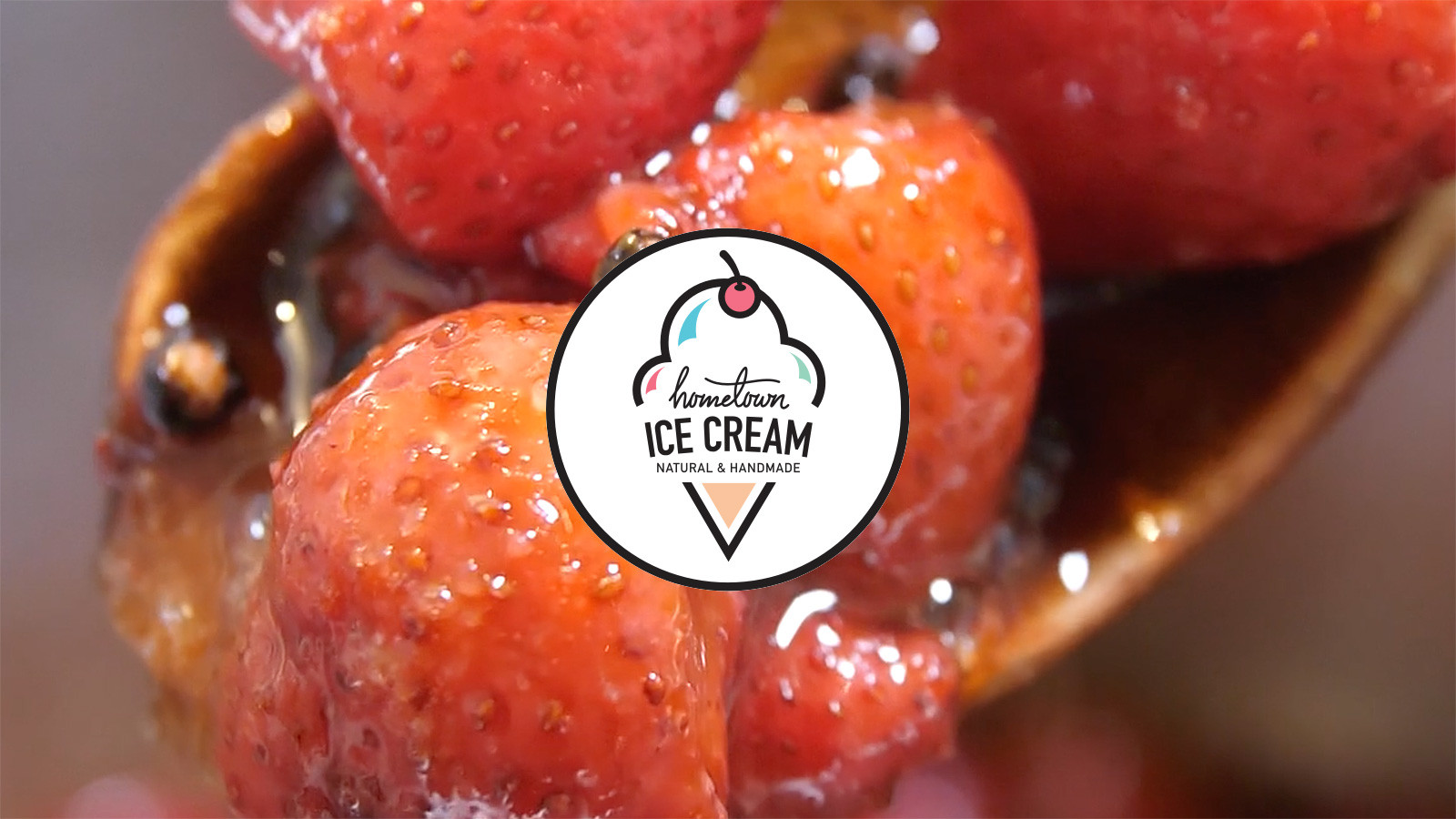 Website & Email Marketing
A splash of storytelling
A simple but responsive website was designed to celebrate the new storefront, share information about upcoming events, and collect email subscriptions to "The Scoop", Hometown's monthly email marketing effort.
Social Media
Scooping it for the 'gram
To help build a loyal following of Hometown fans, we developed a comprehensive social media strategy that focused on reaching and engaging with the right people, tapping in to local events, and developing community partnerships. From "Scoop Selfie" campaigns to the signature #GimmeTheScoop hashtag, our daily management of social media channels ensured that Hometown Ice Cream's messaging was consistent, professional, and timely. It enabled the Hometown team to focus on what they do best - making great ice cream and delivering a top-notch in-store experience.
Environmental Design & Collateral
Decking out a home for Hometown
There is no shortage of opportunity for fun swag when you could put a cherry on top of almost anything. Working within a new business budget, we developed eye-catching exterior signage, in-store photography displays, and take-home swag including Hometown tees, badges, and buttons.




What We've Learned
The proof's in the scoop
Our work with Hometown Ice Cream has been successful because we're determined to help deliver a seamless customer experience, from a sweet reply to an Instagram Story to the authentic smile that comes with an in-store double scoop of Salted Caramel Crack. By staying ahead of customer service and providing proactive ideas for marketing activities, strategic partnerships, and business opportunities, this partnership had ultimately benefited the customer as much as it did the client.
"I won't even make a decision about the business until I run it past my team at Form & Affect - that's how much I value and respect their expertise."

Linda Vandewetering

Ice Cream Lady
Need to make splash?
Let's talk strategy.